Welcome to the Official Website for the
Anne Arundel County Volunteer Firefighters Association
P.O. Box 1230
Severna Park, MD 21146
Become a volunteer! Contact one of our volunteer stations for membership information
(CLICK HERE)


The Maryland "Move Over Law" Expansion
As of 10/01/2022, the State of Maryland will be expanding the Move Over Law (SB147). The law will now require drivers to move over or slow down when approaching any vehicle that is stopped or parked and displaying hazard warning lights, road flares, or other caution signs. The expanded law is in place to protect law enforcement, emergency responders, and any motorist who may encounter a roadside emergency and must stop near travel lanes. Maryland is the eighth state to expand its Move Over Law to include all disabled vehicles.

For more information regarding the updated Move Over Law, please click on MDOT's resource link here: https://zerodeathsmd.gov/how-you-can-help/move-over/.
Maryland Law requires ALL vehicles to stop for school buses with flashing red lights activated and stop-signs extended.
This includes emergency vehicles. Emergency Lights and Sirens activated does not give the emergency vehicle authority
to pass a stopped school bus. Best practice is to turn off siren and wait for the bus driver to complete the loading/discharge
process. Then after they have deactivated the buses Red Lights and retracted the Stop -Signs the emergency vehicle may
proceed. Use extreme caution to look for any children that may have discharged from the bus, they may be distracted and
not aware of your presence. Annotated Code of Maryland §21-706. (a) If a school vehicle has stopped on a roadway and
is operating the alternately flashing red lights specified in § 22-228 of this article, the driver of any other vehicle meeting
or overtaking the school vehicle shall stop at least 20 feet from the rear of the school vehicle, if approaching the school
vehicle from its rear, or at least 20 feet from the front of the school vehicle, if approaching the school vehicle from its front.
(b) If a school vehicle has stopped on a roadway and is operating the alternately flashing red lights specified in § 22-228
of this article, the driver of any other vehicle meeting or overtaking the school vehicle may not proceed until the school
vehicle resumes motion or the alternately flashing red lights are deactivated. (c) This section does not apply to the driver
of a vehicle on a divided highway, if the school vehicle is on a different roadway. The decision to pass a stopped school
bus may end your career, and worse it may be something you will have to live with for the rest of your life if you hit
and kill a child.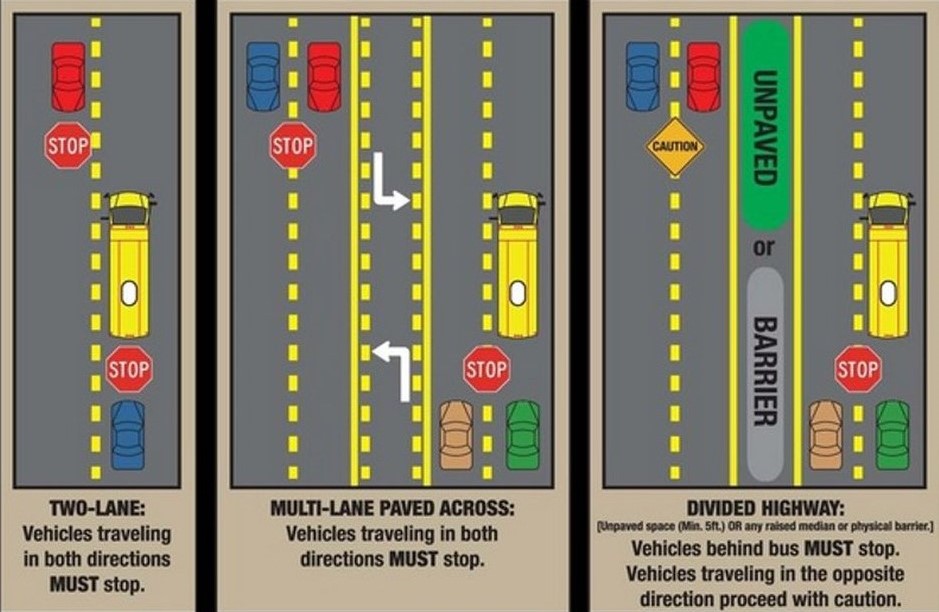 Crash Responder Safety Week Urges Motorists To Slow Down Approaching Traffic Incidents
In an effort to protect first responders at accident scenes, Gov. Larry Hogan has declared Nov. 8 to 14 as Crash Responder Safety Week in Maryland.

The Maryland Department of Transportation's State Highway Administration, the Maryland Transportation Authority, the MDTA Police and the Motor Vehicle Administration jointly are reminding motorists to stay alert, move over and slow down when approaching first responders and traffic incidents.
First responders and highway workers responded to more than 95,000 crashes on Maryland roads in 2020, in addition to thousands of other traffic incidents such as disabled vehicles and roadway hazards, according to the Highway Safety Office. SHA first responders assist a motorist or manage a traffic incident an average of every nine minutes, and their presence at crash scenes prevents 225 to 250 secondary incidents each year, according to an SHA statement.
Since 2016, when SHA first responders were tending to traffic incidents, there were 68 accidents, including five this year. Nationally, 23 highway workers and one law enforcement officer are killed every month at a traffic incident or crash scene. One tow truck driver is killed along a road every six days, according to the American Automobile Association.
Locally, two MDTA officers were hit by drivers who failed to slow down and move over, MDTA Police Chief Kevin M. Anderson said in the statement. Both survived and are recovering, he said.
"Our officers and highway responders are more than just a man or woman in uniform. They're someone's mother or father, an uncle, a sister or a friend. Remember that as you approach an incident at highway speeds," Anderson said.
Drivers are urged to comply with Maryland's Move Over law, which requires motorists to move over when approaching emergency, law enforcement, tow truck, and transportation vehicles that are stopped, standing, or parked on a highway with their red, amber, or yellow lights flashing. If it is not safe or feasible to move over, motorists must slow to a reasonable speed that's safe for existing weather, road, and vehicular or pedestrian safety conditions.
A violation is a misdemeanor carrying a $110 fine and one point on the violator's driving license. If the violation causes a crash, the fine is $150 and three points. If there is a death or serious injury, the fine is $750 and three points.
"It's crucial that drivers give their full attention while behind the wheel to protect themselves and others on the road," MVA Administrator Chrissy Nizer said in the statement. "We need all motorists to move over or slow down when approaching flashing lights, whether it is law enforcement, tow trucks, or utility or transportation vehicles. It's up to us to ensure our roadside workers and emergency responders make it home safe."
---
Monoclonal Antibodies for Treatment of Mild to
Moderate COVID-19 in Non-Hospitalized Patients
What You Should Know:
· Monoclonal antibodies (MAbs) have been used for decades to treat certain cancers
and autoimmune disorders.
· In the case of SARS-CoV-2, the virus that causes COVID-19, they are developed by
manufacturing antibodies to specific proteins found on the surface of the virus.
· When administered to a person infected with SARS-CoV-2, MAbs act like the body's own immune
system would, reducing the ability of the virus to attach to and infect human cells.
· Three different MAb products are available under FDA emergency use authorization;
they are currently the only available treatments that are specifically intended to treat COVID-19.
· They can only be administered to people 12 years and older, with mild to moderate COVID-19 who are
not admitted to a hospital, with no oxygen requirement [above what they might be receiving
chronically], and within 10 days of symptom onset.
· Patients must have at least one risk factor for progressing to more serious illness:
o Age > 65 years
o Overweight (BMI > 25)
o Diabetes
o Cardiovascular disease, including hypertension
o Chronic lung disease (e.g., COPD, asthma)
o Chronic kidney disease o Immunocompromising condition or immunosuppressive therapy
o Sickle cell disease o Pregnancy

Why is this Important?
Evidence indicates that not all people who are eligible for treatment with MAbs are getting it.
They do not seek treatment early enough, and thus are already too ill, or their health care clinician doesn't suggest it.
What You Can Do:
· If you or someone you know develops COVID-19, ask a physician about MAbs.
· If you care for a patient who might meet the criteria above, advise him/her that MAbs may be appropriate,
and encourage him/her to have a prompt conversation with a physician.
Where can you get MAbs:
Medstar Harbor Hospital 410-350-2246
3001 S Hanover St, Baltimore, MD 21225
ANNE ARUNDEL MEDICAL PARK Pharmacy 443-481-1000
2001 MEDICAL PKWY, ANNAPOLIS, MD 21401
First Call Medical 443-459-1095
1425 Annapolis Rd., Odenton, MD 21113
---
Traffic Safety:
How should civilians react when they see/hear an emergency vehicle?
SLOW DOWN
Check your surroundings and if possible safely move to the right side of the road.
If moving right is not possible, assess your surroundings as to the best way to make room.
It might be by sitting still where you are!
Often times there are multiple apparatus responding to a call.
Then bring your vehicle to a stop while the emergency vehicle passes by.
If they are at a stop light and you cannot get over, check both ways and slowly proceed through the light if necessary.
When coming up on an accident on the side of the road, move over to the furthest lane possible away from the scene
and slow down for the safety of first responders and emergency personnel.
If you cannot vacate a lane, slow down and pass the accident at a safe speed and distance to continue your commute.

When civilians are driving and come across a fireground:
SLOW DOWN
If hose lines are across the road

DO NOT

drive over them.
It is illegal to drive over a hose line.
It can and most likely will damage the hose line and your vehicle.
It prevents water from flowing which endangers life and property on the fireground.
If possible, find another way around the incident. Even if you have to back up or turn around.
If there is no way around please be patient with our personnel and we will get you through the scene as quickly and safely as possible!
Remember to always obey traffic laws and be aware of your surroundings when driving!
Lake Shore Open House

Member Jesse Wright, October 15

Come and join us for a fun filled and informative day of learning and fire safety information. Plenty of demonstrations and emergency equipment to be seen. Apparatus tours and our Junior Combat Challenge will be there for all to participate in.... (Full Story & Photos)

Robert Brandon, Odenton VFC Named Member of the Quarter

Member John Long, Jr., July 14

Robert Brandon, Odenton VFC Named Member of the Quarter

June 23, 2022
To: Outstanding Member of the Quarter Award Committee
Anne Arundel County Volunteer Firefighters Association

The officers and members of the Odenton Volunteer Fire Company (OVFC) are very proud to nominate EMT Robert (Rob) Brandon for the Anne Arundel County Volunteer Firefighters Association's Outstanding Member of the Quarter ... (Full Story & Photos)


Firefighter/EMT Kimberly D. Kerschner Graduates

Member John Long, Jr., June 18

Firefighter/EMT Kimberly D. Kerschner graduated from the American Military University with a Masters Degree in Public Administration. She also received the Academic Scholar Award.
Kim serves the Ferndale Volunteer Fire Company as a Firefighter II and Emergency Medical Technician and Ambulance Driver.
While working on her Masters Degree, Kim also completed over 400 hours of fire service training through ... (Full Story & Photos)


AACVFALA Past President Dorothy (Dotty) Dean Anderson Passes

Member John Long, Jr., April 25

Past President Dorothy "Dottie" Dean Anderson, passed away on April 23, 2022, at the age of 80 after a long battle with cancer.

Dottie joined the Jessup VFD Ladies Auxiliary in May 1968 and was a member just shy of 54-years at the time of her death. She served as Secretary for countless years. When their ladies auxiliary President, Alvera Miller, passed away in 2011, Dottie became President to keep ... (Full Story & Photos)

Your feedback is important to us! Feel free to sign the guestbook.